Whether you are a new or seasoned truck driver, getting that large automobile from point A to point B is demanding.
First, you do not have the luxury of a vehicle that can be operated as easily as a car or even a bus. For this reason, you need to show extra caution and pay attention to more details.
To help deal with the troubles many such drivers are faced with, we have listed a digital innovation that can make life better for them.
So, are you a truck driver or have someone who is?
If yes, you should keep reading as we share a major type of mobile application for truckers – Weather Mobile Applications.
Why Mobile Apps
The development, as well as the use of these innovations, are one of the biggest things happening in the ICT industry. Because of the relevance of this sector to almost every operation, they have found their way into almost everything.
Some of these include social interacting platforms, strategic marketing applications, truck apps as will be discussed here, and many more.
Another reason this digital innovation has taken center stage is because of the accessibility of many people to mobile phones.
Compared to PC systems, many people find mobile phones easier to get and use. In light of this, it is only logical that digital innovations take advantage of this. If you are interested in finding out statistics on mobile/smartphone usage, you can read this article.
Best Application for Truckers – Mobile Weather Application
Many phone applications can be used by truckers. However, we have figured out that the most important in our opinion are those used for weather prediction.
This is because a good one can do more than give you the weather forecast. Good digital products that offer these services go as far as suggesting suitable take-off time, better alternative routes, easy to use interface with animated radar, wind direction analysis, night location direction, stations that you can have a stopover, and more.
This is exactly what many truckers need and should take advantage of in this phone application. And talking about weather prediction in particular, how important is that?
Such a digital service is more than welcome. This is considering the number of accidents and damages that happen to truckers and their vehicles respectively because of the lack of pre- knowledge of weather conditions.
So, truckers can use a good and relevant application to avoid such negative things from happening. On that note, we consider these mobile compatible digital innovations as the best app for truckers and other road users.
Now that we have established this, how can you tell a good mobile app for truckers and/or anyone else?
How to Know a Good Mobile Application for Truckers and Everyone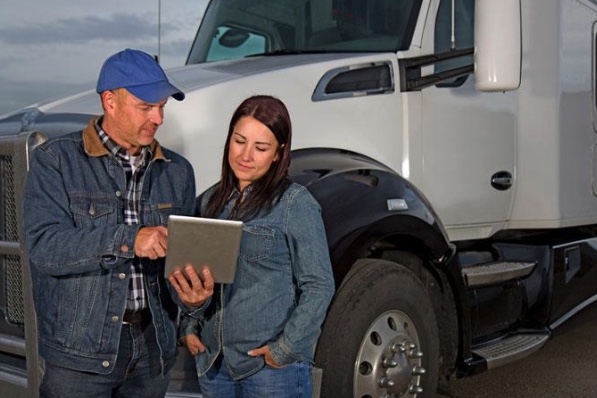 Here is how you can tell a good app:
Good Reviews on Credible Ranking Pages
If you check Google Play store and other similar search engines, you will find a long list of related applications for whatever you are searching for.
Choosing the best option can be difficult without the right knowledge. One way to make the right decision is to look out for reviews and rankings.
The reviews will show what previous users think about the mobile application. This is important as it will influence your decision to either download or move to the next option. 
Check the Features on the Description Section
Also, these search engines have sections that allow you to see what you may be downloading/purchasing. The developers are responsible for introducing their products right there.
It is important that you go through this part as not every good application is relevant for you. So, read the description to avoid downloading what will not serve your best interest.
Check as Many Options as You Can
Frankly, there are many great options and you should not simply go with the first one that presents itself. This is especially because the options on the first page are not necessarily the best ones. They only appear there because they have met certain Algorithm requirements.
On that note, you should check out as many options as possible. You do not know what is best until you see something better. For more on how to generally figure out the best option, you can visit: https://www.popsci.com/find-best-apps-avoid-duds/
Conclusion
Driving a truck is serious business. It requires a high level of caution and expertise. To help truck drivers perform better in their task, we have shared a mobile product that is essential to them – the Weather application.
This will help them avoid moving their heavy-duty vehicles under terrible and life- threatening conditions. More especially, this option is very essential for those that frequent places prone to heavy storms and very harsh weather conditions.
As a result, such drivers and their commuters are advised to download and use them appropriately.