The best photo collage apps provide a fun way to share all of the images you have on your smartphone. The photo collage apps will take your pictures to the next level, allowing you to add video clips, animation, text, music, and more, whether you want to share them with family and friends, actively post them to a social media platform, or turn them into cards or posters.
How do you choose between the dozens of photo collage apps available for Android and iOS devices, each with its own adept set of features and pricing? Remember when making collages required a lot of time and editing skills? Nowadays, you can achieve stunning results with just a collage app.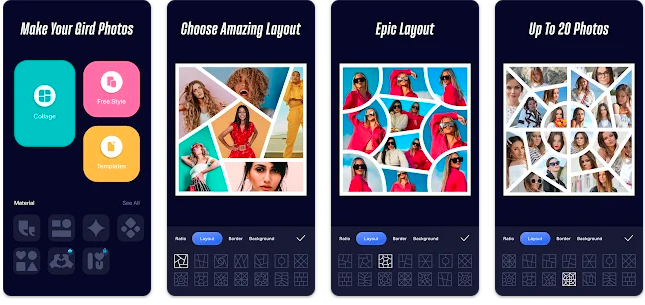 How to Select the Best Photo Collage App
Consider the design versatility and presentation of photo collage apps before downloading one. Some include a variety of template frames and grids, as well as magazine and greeting card layouts. Other options include in-camera shooting and editing, filters, backgrounds, text, and stickers.
Despite their template structure, these quality apps give you a voice to create your own unique statement to share via social media, email, and even print; it's the kind that distinguishes the best photo collage apps from the rest. Almost all of the top photo collage apps are free to download, so there's no harm in trying out a few of them to see which one you prefer. The best photo collage apps are an excellent resource for photographers and social media users. They enable you to share or display multiple photos at once.
Collage Maker: Pic Grid Editor
It is a full-featured photo collage and photo editor with thousands of ready-to-use collage, freestyle, and story or post templates. The app also adeptly allows you to add filters, text stickers, emojis, and other effects.
You can instantly remix your photo in collage layout with the Collage Maker: Pic Grid Editor App. It also has good features that can help you create amazing stories, status updates, and posts for any social media account.