TalentLMS is widely regarded to be award-winning learning management system which actually permits you deliver information to their colleagues, students, employees, keep them educated and also eventually improve their skills. With their cloud-based construction, TalentLMS is highly accessible to users and learners which come with a myriad of capabilities comprising statistics and reporting, web conferencing, email communications, an e-commerce vital aspect and much more features.
With TalentLMS, the global users could do more than just build courses and organize educational materials with simplicity. It professionally strengthens the whole training process. By actively enabling you to deliver information and training materials to your workforce they optimize their skill sets. There is wide range of core benefits of TalentLMS which brings to global users namely as
Users could actively build e-learning courses in minutes. They can use old videos and presentations or employ wide range of online material using Social Integrations.
It could be properly configured to meet your business needs. Also possible to add a custom logo, theme, or domain to personalize the tool
There is no requirement to install, upgrade or backup anything. TalentLMS is also Cloud powered Learning Management System.
They provide easy and comprehensible analytics about everything that happens inside your learning environment.
It is professionally designed and optimized to work with iPad, iPhone, Android mobile devices.
They have full support for SCORM & TinCan (xAPI), notifications, course selling, video-conferencing, gamification, extensible user profiles etc.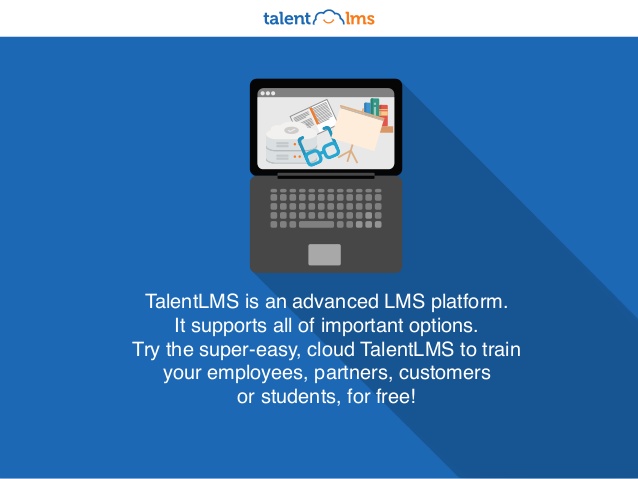 TalentLMS is popular cloud LMS that makes proper use of your time and maximizes your training output. The users could become proficient with TalentLMS in minutes, and it permits you to create a complete course in less than an hour. The quality vendor has also made it so simple to integrate existing training materials in any format, including videos, presentations, Word and PDF documents and even SCORM/TinCan files.
Beneficial aspects of TalentLMS are:
They are Cloud based allowing you deploy an eLearning portal in seconds. You could easily upgrade/downgrade your plan whenever you like. There is also provision of free plan for life.
It professionally enables you to build courses by re-using any material you already have or by directly integrating content from the source of web.
They have a minimalist interface that allows your users strongly focus on the content instead of gimmicky options.
It is extremely customization, permitting you to customize literally anything to your branding needs.
They effectively provide a great mobile experience. It could be used on any device, whether it's a PC, tablet, phablet or smartphone.
The TalentLMS also offers the ability to upload a spreadsheet of users, issue certifications and share courses on familiar social media sites.  It also provides each user with a "timeline" of actions they took in the system which was effective from administrative perspective and could be properly utilized in auditing scenarios. They also professionally support out-of-the-box APIs that qualitatively permit you to simply hook up CRM, Single Sign On, xAPI, eCommerce, Content Management, other cloud systems to share data and content with the LMS. With respect to pricing there are tiers of pricing based either on overall registered users or unique monthly users making this enterprise license friendly.
Altogether this popular TalentLMS, is professionally designed to offer a fully-featured e-learning tool to small companies, however, it is also widely adapted by many larger organizations and public bodies. The app has many beneficial aspects to train new and existing staff, to provide support and learning for clients, partners and external stakeholders, to create courses for students, and to sell courses online. TalentLMS would be certainly unchallenging to use for non-technical users and those individuals who have never created an online course before. The learning management solution is largely used by training bodies and learning institutions, as well as by organizations in industries respectively as real-estate, IT, hospital and health care, law and entertainment.
WORTH HAVING APPLICATION: DOWNLOAD THE APP