Veereo is the next generation of entertainment – the new way to show your talent. Whether you're creative, or just love music and want to be part of the next big thing, join Veereo.
Music industry connections that matter
Veereo is a global platform built by music industry professionals who are looking for talented artists who are ready to take the next step in their careers. By uploading your videos or live streaming your performances on Veereo, you'll be eligible for opportunities across the globe.
Live video collaborations with established artists
Competitions where you could win prizes and publicity –
Most importantly, recognition from the people who matter most.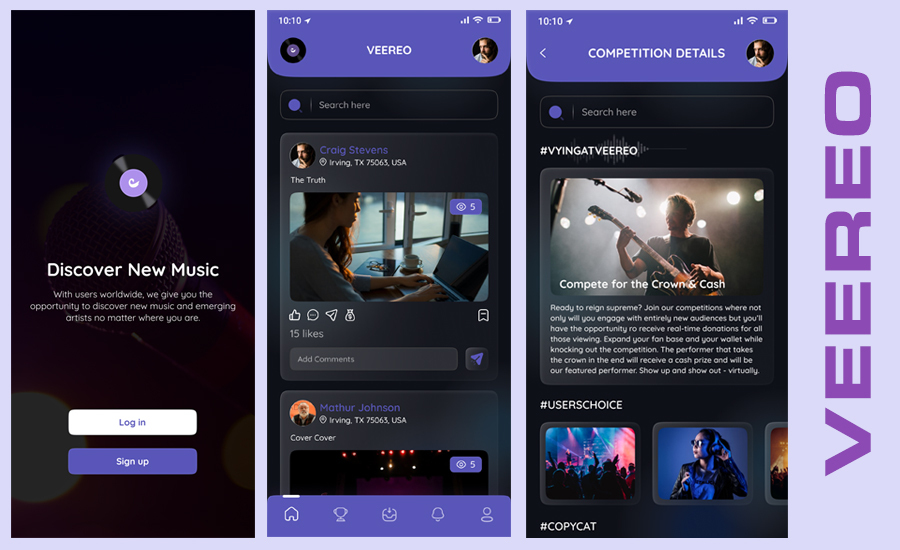 Stream or Record
Veereo lets you upload pre-recorded videos or Livestream your videos on any device, anytime. It's easy to start streaming or casting your performance with Veereo.
Get to know us better
We are a powerful platform that provides a space for you to express yourself and make connections with other artists who share your tastes in music and creativity. We let you be involved in what we do with our interactive features like voting on performances and making comments. Join the community!
Veereo is the newest, breakthrough platform built for unsigned artists. It's the only all-in-one multimedia entertainment platform that focuses on music artists that want to establish themselves and reach out to a wider fan base by participating in competitions, collaborations, and live streaming performances!

YouTube is so cluttered with uploaded videos that it's almost impossible to stand out. Tik Tok and Triller let you gather followers in a time-consuming manner. Sound Cloud only lets artists share their talent via audio tracks.

Competitions – Veereo is the first multimedia platform to bring live, virtual competitions to the market.

Live stream performances – Stream your music performances live and users/artists can view, cast votes, make comments and create buzz.
Other features:
Promote and book performances just in a few minutes
Upload pre-recorded and live stream performances.
Cast votes, make comments and create buzz for artists' videos.
Easily find artists to collaborate with!
Join the massive Veereo stage where you can bring your music to the world!
Participate in competitions, upload music performances and book gigs—and create buzz for your music! The best part? You can do more of what you love directly from your home.
Take Away
Veereo is the easiest way for unsigned artists to get their work in front of music industry professionals, but it's not just for musicians. You can use Veereo to upload and share videos and music recordings from any genre – from classical to electronica.