In today's review we have a sequel to the famous series Defense Zone 3 HD, which was first developed in 2011 and became a kind of cult for many. With new weapons, new features and even more comfortable gameplay, Defense Zone 3 HD is gaining more grounds on android and iOS based devices. The latest update came around after fans demanded bread and spectacles which lead Defense Zone to gather around a friendly community of players and developers and the result of the efforts was Defense Zone 3 HD. Defense Zone 3 HD differs from its predecessors with expertly verified balance, improved graphics and special effects, as well as a more thoughtful interface. Below are some of the new features you are going to enjoy from the game.
Cards
There are 8 maps in the game, but they are perfectly drawn and balanced. Here you have a pastoral suburb with a touch of post apocalypse and ruined buildings, a picturesque foothills with forest, an industrial zone, lush vegetation of the jungle, a plain divided by a canal, a snow-covered field, tropical islands surrounded by water. The battle on one card lasts from 20 minutes to a couple of hours. However, there are downloads after each wave and the ability to speed up the time by clicking on the "rewind" button (2-4 times)
Opponents and Weapons
Defense Zone 3 features a variety of opponents – numerous, but "fragile" infantry, brutal tanks, futuristic fighting walking robots, nimble fighters, dissecting the waters of the cruiser and frigates. All three elements are involved – water, land and air. Accordingly, the defensive structures are "sharpened" to destroy their "own" enemy.
Machine guns, the most accessible weapons, quickly "mow down" the infantry and cope with lightly armored targets. Rocket installations are most suitable for the destruction of tanks, aircraft and ships. Lasers work on armored ground and air targets. Flamethrowers gaily burn everything that falls into the radius of their action. Futuristic weapons such as, guns firing liquid nitrogen (slowing the enemy), combat generators of powerful lightning (electric discharges).
Each type of weapon has its own peculiarities and methods of application. For example, liquid nitrogen does not fit well with flamethrowers, and machine guns can not hit air targets.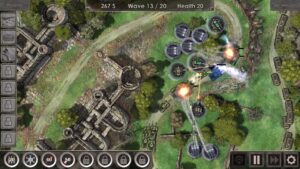 Upgrade and Support
Each defense facility in Defense Zone 3 has been improved. The power of the "tower" after the upgrade is doubled and the radius of action increases slightly. It is necessary to decide whether to build a new missile system or to upgrade the existing one. After the first upgrade, each security building has a button "Hellfire", temporarily increasing the power of the "tower".
In addition to the towers, Defense Zone 3 has the ability to hit the enemy with additional weapons and support – air strikes, minefields, nuclear missiles and even dark energy! These bonuses are obtained during the battle or are bought for coins. Coins can be bought through built-in purchases or get free of charge in exchange for viewing advertisements.
Tactics
Defense Zone 3 has a fair tactical depth. It is important not only to correctly place the towers, but also to balance the construction of the new or upgraded towers so as to change low-powered machine guns in time, for example, to rocket launchers. The player also has the opportunity to customize the tactics of each individual machine gun or laser. For example, it is possible to single out a pair of rocket launchers that will only hit air targets, and the laser will be forbidden to shoot at anything other than enemy ships. Each "tower" can be configured to defeat different types of targets – optimal, closest (to the exit / tower), strong and weak. Such a number of modifiers of your defense's behavior will come in handy at serious levels, where opponents of the rod are crowds from different directions, and even on all possible fronts – from air, water and land.
Final Verdict
If you're looking for a tactical depth, luxurious graphics, minimum advertising and completely optional built-in purchases, then Defense Zone 3 HD is an excellent choice for your smartphones and tablets based on Android and iOS. The gameplay is dynamic, requiring attention and sometimes exciting enough that it's impossible to break away.