In simple words this popular app of TimeOffManager is a fully automated online service for tracking and managing employee absence, time-off, leave, and attendance. It was good experience of using this beneficial web app. Moreover the app is professionally offered for three kinds of users respectively as admins, managers, and employees. It viably sends email notifications to all designated users upon approvals, rejections, and cancellations. In addition all requests must be submitted through the system, which wholly eliminates manual time-off processes and the risk of mistakes.
When you speak about this app it is automated and web-based for simple accessibility. There are no compatibility issues and all you require is an internet connection. This app thoroughly eliminates paperwork and the risk of making mistakes while tracking attendance on paper. They also provide secure SSL certificate for your peace of mind. Altogether it is easy and facile to use.
Apparently this app reduces time spent on managing staff attendance. Moreover all records are kept confidential and safe. In addition the current and previous years' records are available instantly. The app is available via the internet at all times and from any location.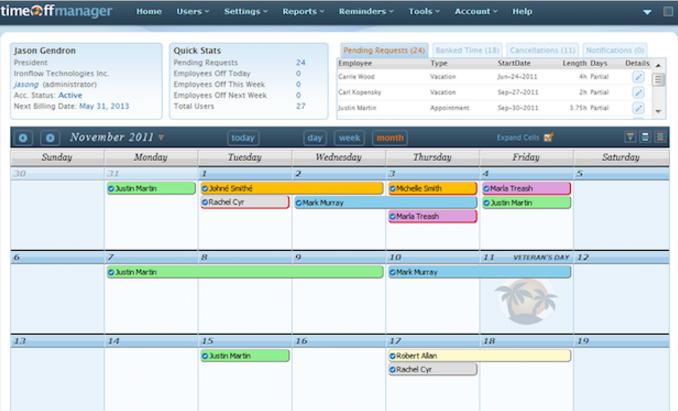 TimeOffManager effectively provides automated e-mailing of requests for absence. You could come across configurable, multi-level, management approval system. The global users could simply look at their individual leave summaries for the year. More efficiently this app offers a management overview of company leave at a glance. The users could simply copy and paste data to other applications also. The main processes like installation, maintenance, and data security are sincerely taken care of by the vendor's technical team.
Salient Features of TimeOffManager
It has feature to define special event days
Provision to set time-off reminders
Possible to add custom time-off types
Create your own holiday calendar
Develop audit trails of all time-off requests
Provision of automatic balance accruals
Comprise automatic length of service accruals
Able to group your users by offices
Professionally integrates with Google calendar and Outlook
Features of multi-level approvals
Facility of easy-to-use interface
Provision of single sign-on capabilities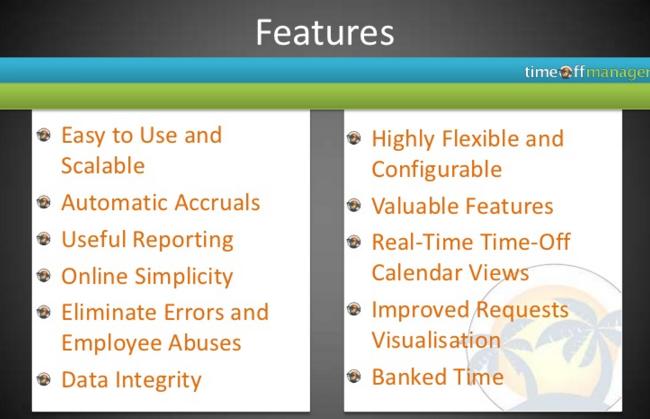 Pricing
The price mentioned is CAD per month. The vendor offers a 14-day free trial on all plans. Also there is a 10% discount if you pre-pay for one year. The vendor provides special rates for non-profit organizations.
Basic: $25; between 4-15 users
Plus: $40; between 16-35 users
Advance: $55; between 36-50 users
The Free Plan: For smaller companies; 1 administrator; 1 manager; 3 employees
Eventually I realize that when you make a decision to buy project management software it's vital not only to view how experts evaluate it in their reviews, but also to search out if the real people and companies that buy it are actually satisfied with the product. According to me this is great app to be wholly used for all essential works.
WORTH HAVING APPLICATION: DOWNLOAD THE APP