Mobile based games have endless benefits when it comes to the cerebrum. These games enhance the player's mood and boosts their concentration level. Many people think that playing mobile based games are a waste of time. But in most cases these games are good at capturing our interests and are amazing at reliving the mind of stress and depression. Many games are addictive yet they give the player a sense of freedom. With the advent of the endless running games, people have been playing them and have n recent times grown tired. Despite their unending fun, these games do not provoke the ultimate entertainment. 'Crazy Space Shooter' is a mobile based app that is an endless running and shooting game that guarantees to keep you hooked.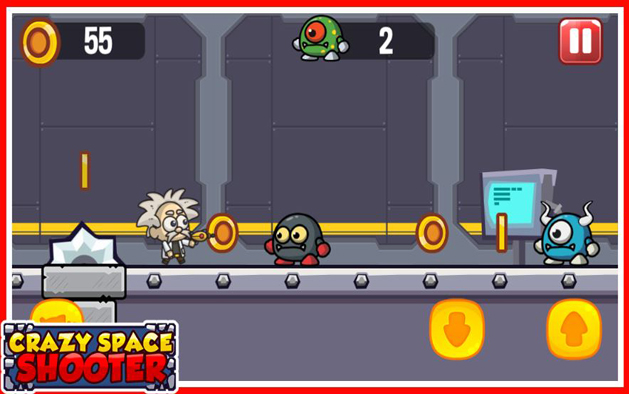 Developed by:
'Crazy Space Shooter' was developed and provided by '801Chase'.
How the app works:
Download and install the 'Crazy Space Shooter' app on your mobile phone or any other similar devices. Now start enjoying the game on your device. As you enter the game, your avatar will start running. You will encounter many alien monsters along the way which you should shoot using the controls button. When faced with obstacles you should jump up or down. This game is the apt one at testing our reflexes and concentration. Collect as many gold coins as you can along the way and avoid the deadly voids. You can use the space jets to fly and collect coins. Unlock new space crafts, avatars and game props along the way.
Features of the app:
'Crazy Space Shooter' app has many cool features. Some of these are listed here.
User friendly and smooth game play
Random obstacles and enemies that occur along the way
Improves reflexes
Easy and smooth game play
Compatible with: